Abraham F. Lowenthal
Articles by Abraham F. Lowenthal:
October 1994, Volume 5, Issue 4
Summer 1991, Volume 2, Issue 3
April 2000, Volume 11, Issue 2
Recent disappointments have led to excessive pessimism about Latin America's economic and democratic prospects. International recognition of the region's diversity and a sense of perspective about its setbacks will improve its chances for further success.
---
Books: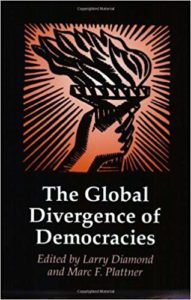 Drawn from outstanding articles published in the Journal of Democracy, The Global Divergence of Democracies follows the enthusiastically received earlier volume, The Global Resurgence of Democracy.