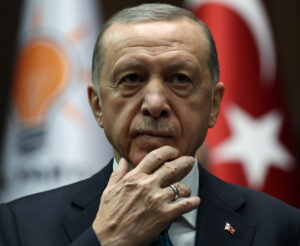 Turkey's president rose to power as an antiestablishment everyman. Twenty years later he is an authoritarian ruler clinging to control and leading an increasingly corrupt regime. Will the forces that catapulted him to power be his demise?
Turkish voters head to the polls on May 14. The outcome of the election could determine the fate of Turkish democracy and will reverberate across the world.
The Journal of Democracy has been covering Erdoğan and the AKP from the beginning. Following is a selection of key essays from the last two decades of AKP rule.

How Authoritarians Win When They Lose (2021)
Turkey's ruling party has developed a new tool: When its local candidate loses, it dismisses the winner and appoints its own choice under a guise that maintains the veneer of democracy.
By Sultan Tepe and Ayça Alemdaroğlu

The Pushback Against Populism: Running on "Radical Love" in Turkey (2020)
Is there a recipe for defeating a populist? A novel campaign strategy may show how to beat the odds in a competitive authoritarian system.
By Melvyn Ingleby and F. Michael Wuthrich

Turkey: How the Coup Failed (2017)
When parts of the Turkish military attempted a coup in July 2016, the AKP regime brought to bear both its competitive and authoritarian features, stopping the coup and launching a crackdown.
By Berk Esen and Sebnem Gumuscu

Turkey's Two Elections: The AKP Comes Back (2016)
The AKP seemed like it might be losing its hold when Turkish voters went to the polls in June 2015. Yet that "hung election" gave way to another contest in November, and the AKP came roaring back.
By Ziya Öniş

Turkey Under the AKP: The Era of Dominant-Party Politics (2012)
The AKP's 2011 victory confirmed its status as the dominant force in Turkish politics, but also sparked fears that its unchecked power might threaten civil liberties.
By Meltem Müftüler-Baç and E. Fuat Keyman

Turkey Divided (2008)
Events surrounding Turkey's 2007 elections reveal a country with a vibrantly democratic political sphere and a society badly split over the role of Islam in national life.
By Zeyno Baran

Turkey at the Polls: A New Path Emerges (2003)
The parliamentary victory of the AKP represents a new political course that holds enormous potential for Turkish democracy.
By Ziya Öniş and E. Fuat Keyman
Subscribe here to have curated collections like this one and other Journal of Democracy news delivered directly to your inbox.