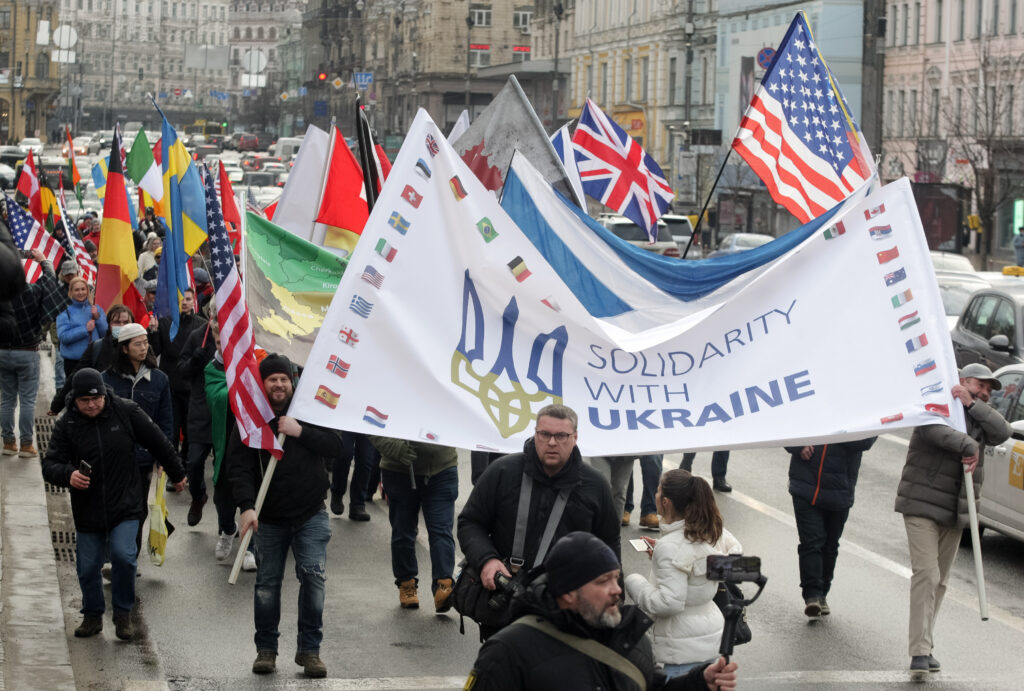 As 2022 draws to close, we are reflecting on what has been a monumental year—for democracy in the world and for the Journal of Democracy. In our first year as coeditors, we strove to carry on the legacy of the Journal's founders by continuing to feature the world's best thinking on democracy in our pages. We also began publishing shorter, exclusively online pieces to give readers timely expert analysis of the most pressing developments in the struggle between democracy and dictatorship.
None was greater than Russia's assault on Ukraine. And it is what mattered most to you, too: More than a hundred-thousand people have read "What Putin Fears Most," by Robert Person and Michael McFaul, published on the eve of the invasion. Our coverage of this disastrous war and its consequences for Ukraine, Russia, and the larger fight for freedom topped our list of most-read online exclusives. We also ran pieces from the sharpest minds on the "white paper" protests in China, the demonstrations roiling Iran, Pakistan's chronic instability, and much more.
We look forward to delivering more incisive commentary and cutting-edge scholarly research in print and online in 2023.
Sincerely,
William J. Dobson and Tarek Masoud
Editors
The Top 10 Most-Read Journal of Democracy Online Exclusives in 2022
1. What Putin Fears Most (February)
Russia's autocrat doesn't worry about NATO. What terrifies him is the prospect of a flourishing Ukrainian democracy.
By Robert Person and Michael McFaul
2. How Putin's War in Ukraine Has Ruined Russia (May)
In a matter of weeks, the Russian autocrat erased his country's prosperity in a feckless attempt to rebuild a doomed empire.
By Kathryn Stoner
3. Why Ukraine Will Win (September)
If Ukraine defeats Russia's massive army, the ripple effects will be felt across the globe.
By Francis Fukuyama
4. Why Putin's Days Are Numbered (March)
The system that Russia's autocrat built wasn't designed to survive the pressures it is now facing.
By Vladimir Milov
5. Will Putin Outlast the War? (April)
Putin may be weakened, but his grip on power is greater than many people realize.
By Maria Snegovaya
6. Why Putin Must Be Defeated (May)
The more determined democracies are to avoid war, the greater the risk that autocracies will wage it.
By Andrei Kozyrev
7. For Xi Jinping, the Economy Is No Longer the Priority (October)
Beijing's focus had long been on economic growth. But China's leader has put an end to that era. For Xi, it's only about power—at home and abroad.
By Guoguang Wu
8. Why Women Are Leading the Fight in Iran (September)
Iran's women were the Islamic Republic's first target for repression. This is the newest chapter in their struggle to win back their rights.
By Ladan Boroumand
9. The Rebirth of the Liberal World Order (March)
Putin's reckless gamble may unexpectedly strengthen democracy in Europe and beyond.
By Lucan Ahmad Way
10. Why Pakistan Always Seems on the Brink of Collapse (August)
The military has spent decades trying to impose order on Pakistani politics. It has led to chaos.
By Ahsan I. Butt