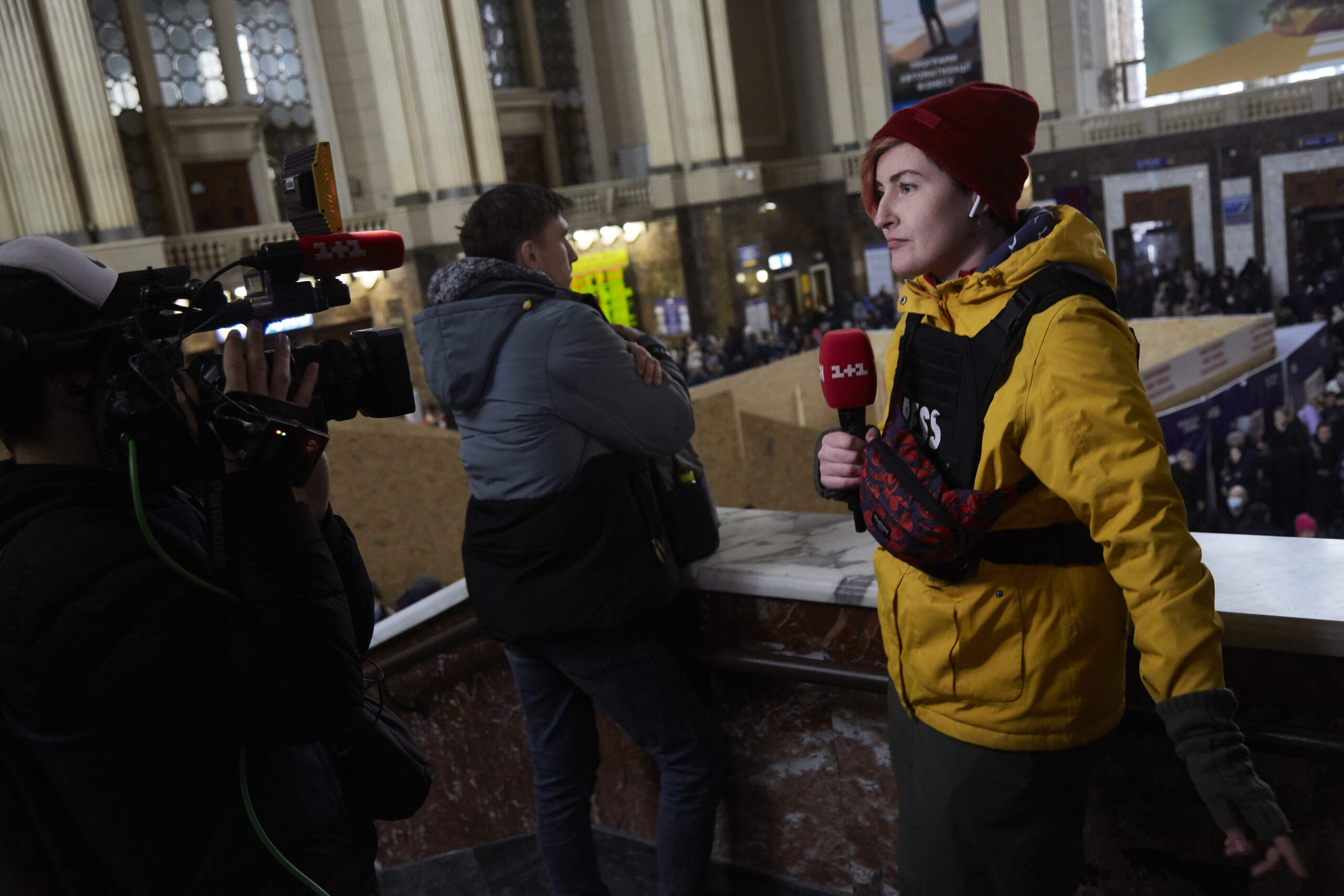 Russian rockets are targeting Ukrainian journalists' ability to report the news, but the country's media is finding new ways to stay on the air.
9 March 2022
By Marta Dyczok
As I sat writing this article, the people I was writing about, many of whom are my friends, were being attacked by Russian military forces. But they kept working and even found time to answer my questions. "I'm not sure how we do it," wrote Iryna Slavinska, the director of cultural programming for Ukraine's Public Radio. "Maybe this is how soldiers feel. This might sound lofty, but we're information warriors." And now they're being shot at.
Information is at the center of any war. Ukraine's media has been fighting against Russia's disinformation war for years. But in February 2022, when Putin launched a full-scale military invasion into Ukraine, they were confronted with an entirely new danger. Journalists and communications infrastructure are being deliberately targeted, along with other civilians, in an effort to silence them. In a remarkable display of unity at all levels—individual, institutional, state, and corporate—Ukraine's media mobilized and created what can best be described as a common information front to keep society informed and their voices broadcasting.
Russian military began trying to knock out Ukraine's communications right away, with the first attack on Luts'k in western Ukraine. On March 1, Russia fired rockets at Kyiv's main transmission tower, located near Babyn Yar, the site where Nazis executed Jews during World War II. The strike killed five people, including one journalist, and temporarily took several stations off the air. At that moment, Hromadske Radio's Andriy Kulykov was broadcasting live from his apartment and unbeknownst to him, his signal was cut off. A colleague in a different location heard the dead air and immediately jumped in and continued the broadcast. Other stations began to broadcast their programs directly to viewers via the internet and various social media platforms.
Television has been one of Russia's key targets because it is Ukrainians' preferred source for information. The last available poll from 2020 found that 75 percent of respondents got their news from TV, down slightly from 80 percent the year before. This is why Russians are targeting TV towers.
To keep society informed, many media outlets soon began running around-the-clock news marathons and pooling resources. In an unprecedented move, three large private corporations—StarLightMedia, 1+1 Media, and Inter Media Group—joined with the public-television broadcaster, UA:First, and Ukrainian Radio to create a common project called United News. Each channel took a slot in the 24-hour news cycle (there was, reportedly, some jockeying for prime positions) for which it would produce a segment of the news that everyone would air. That way, if one company lost its broadcast capability, news would still be broadcast by all the others. Regional media firms also joined the initiative. All companies, including cable operators, waived user fees, so access to news became free.
This was an enormous shift for Ukraine's media. Over thirty years of independence, a diverse media landscape had developed in the country, with everyone competing for audiences. The overall system resembles those in established democracies, made up of four main segments: large corporations, public broadcasting, small independent media outlets, and online and social media. Large private corporations dominate the scene. Owned by so-called oligarchs, they create multimedia content—ranging from news to entertainment, sports, and more—aimed at generating large profits. The media moguls hold different political views and compete among one another, but generally try to use their media outlets as instruments of power.
A relative newcomer is the Public Broadcasting System, which was created from the old state broadcaster in 2014, after the Euromaidan revolution succeeded. Despite its problematic legacy as a state mouthpiece, the Public Broadcasting System has managed to slowly but steadily win viewers and gain a reputation for reliable news and quality programming. There are also small independent media outlets of all sorts, and in the past ten years online and social media have started playing an increasingly prominent role.
In February 2022, almost overnight, most media operations stopped competing and began working together. They did so not at the demand of the government; they just started sharing resources to keep society informed. Notably absent from the new media coalition are companies reportedly owned by Victor Medvechuk, an oligarch and politician with pro-Russian views and a close friend of Putin's. They were banned last year by Ukraine's National Security and Defense Council.
The jointly produced news created by the United News coalition has also been made available on online and social media platforms, including YouTube, Telegram, and others. The internet and social media have been sharply growing in popularity. A 2020 poll found that 44 percent of respondents regularly went online for their news, up from 24 percent in 2019. On March 4, one week into the war—Ukraine Radio's general producer, Dmytry Khorkin, posted on Facebook: "Our programmes are being shared on TikTok!" Within days, a special app was developed on RadioPlayer to make the news easily available online and on smartphones, free of charge on Ukrainian mobile networks. The content is provided in three languages: Ukrainian, Russian, and English. The Ministry of Digital Transformation then joined forces with Megogo, an international streaming service created in Kyiv in 2011, to create another app called Dia-TV, which is making United News content available when TV signals are down. (Dia is the Ukrainian word for action.) The Ministry's next step was to broker a joint roaming agreement between Ukraine's main mobile network providers—Kyivstar, Vodaphone Ukraine, and lifecell—so that if one company's signal disappears, users can simply switch to another.
A few nights ago, I was on the phone with a journalist friend in Kyiv. Knowing that it was past midnight there, I asked him if he was in a bunker. "No," he replied. "There's no signal down there and I needed to give an interview to a Canadian radio channel; they wanted to know what's going on here." As I paused to take in what I'd heard, he said, "Sorry, gotta go. Just heard an explosion outside my window. Need to find a safe place. Hope to talk to you tomorrow." The next day he was back on air, fighting Ukraine's information war.
Marta Dyczok is associate professor in the departments of history and political science at Western University, fellow at the University of Toronto's Munk School of Global Affairs, and adjunct professor at the National University of the Kyiv Mohyla Academy. Her most recent book is Ukraine Calling: A Kaleidoscope from Hromadske Radio 2016–2019 (2021).
Copyright © 2022 National Endowment for Democracy
Image credit: Pierre Crom/Getty Images