Dave Peterson
Articles by Dave Peterson:
July 1996, Volume 7, Issue 3
April 1996, Volume 7, Issue 2
January 2006, Volume 17, Issue 1
After a long and bloody civil conflict, Burundi has established a new democratic regime. Does its tenuous but hopeful example hold lessons that might help its troubled neighbors?
---
Books: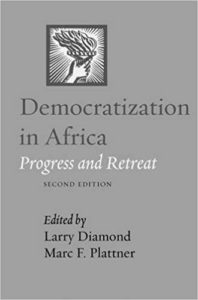 At a time when democracy seems to be in retreat in many parts of the world, Africa presents a more mixed picture. Democratization in Africa: Progress and Retreat brings into focus the complex landscape of African politics by pairing broad analytical surveys with country-specific case studies.